Disability Information System/Software (DIS)
AFTER SUCCESSFUL PILOT, VNAH DATA SYSTEM TO BE IMPLEMENTED NATIONALLY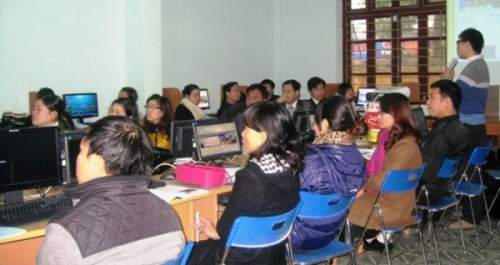 There are nearly 1,500,000 people with disabilities living in urban areas and more than 4,500,000 living in the rural areas in Vietnam, according to the Population Census in 2009. However, the data on disability is not well managed by different sectors. As a result, disability data are reported differently, causing difficulties in planning interventions for the inclusion of persons with disabilities in society.
In an attempt to improve the quality and accuracy of data, VNAH, under a USAID grant, has developed the Disability Information System/Software (DIS), which is being used to manage disability data such as information about people with disabilities in the different sectors of Education, Social/Employment and Health. The data also includes PWD demographics, and their status of employment, health care and education.
VNAH, under the project "Inclusion of Vietnamese with Disabilities" (IVWD), has played a key role in including the DIS into the government's National Target program under the Ministry of Health. During initial stages of implementation, the Ministry of Health (MOH) used Ba Ria-Vung Tau as a testing ground for the software for the Community Based Rehabilitation (CBR) effort. After the pilot, MOH found the DIS to be an easy and useful data system to manage people with disabilities because the data was collected from the commune level.
Using this new data system, health staff can now directly enter into the software and submit data to the district health center. DIS also helps the MOH to identify people with disabilities who need rehabilitation program, and the progress of the patient. With the success of the DIS in Ba Ria Vung Tau, Hai Duong, Tuyen Quang, and Ca Mau provinces, MOH has decided to use DIS at the national level with funding from the national budget.
In the Social/Employment Sector, DIS also operates in Da Nang, Quang Nam and in Bac Giang. This year, Thai Binh and Binh Phuoc provinces are also using this system.
This story reflects only one of the ways in which VNAH works to improve the lives of many thousands of people with disabilities in Viet Nam.